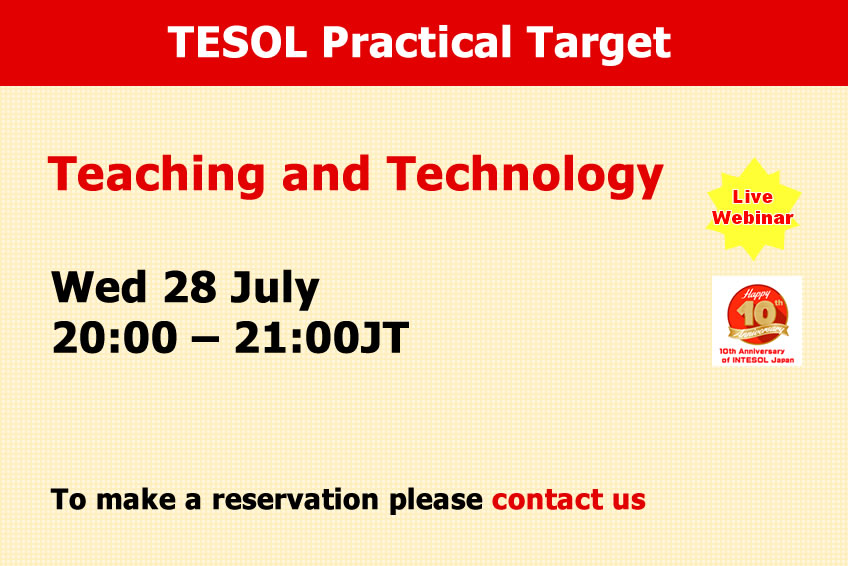 As part of our 10th-anniversary, the Director of Studies of INTESOL Japan will hold a live webinar on TESOL, a qualification for teaching English to students whose English is not their mother tongue. (TESOL stands for Teaching English to Speakers of Other Languages) The session is 60 minutes in length including Q & A.
This programme is provided via Zoom*. Participation in a session requires (1) a PC (2) a broadband connection and (3) a web camera and a headset (earphones). To make a reservation please contact us
Presenter:
The live webinar will be delivered by Rocco Nigro, our Director of Studies. Rocco has more than 26 years of experience in the English Language Teaching (ELT) field as a teacher, teacher trainer, assessor and manager. His experience has been gained in Australia, Japan and China in addition to work he has done with online delivery.
Content:
"I am a strong believer of maximising student participation in the classroom through the use of communicative approaches, so students have a much more rewarding and productive time with their teacher and fellow classmates. At the live webinar, I will explain teaching and technology.  "
[1] Teaching and Technology (40 minutes)
[2] Q & A (20 minutes)
Who is the live webinar suitable for?
The live webinar is aimed at teachers who are teaching in middle and high schools who are looking at ways of motivating their students more during their lessons. It is also helpful for those who are teaching children or adults in private language schools where there are high student expectations regarding the improvement of communicative skills.
Live Webinar Outline
Date & Time: Wednesday 28 July 20:00 – 21:00JT
Place: Zoom (Video Conferencing)
Lecturer: Rocco Nigro – Director of Studies
Form: Normal seminar
Participation fee: Admission free
This programme is provided via Zoom*. Participation in a session requires (1) a PC (2) a broadband connection and (3) a web camera and a headset (earphones). To make a reservation please contact us