The Advanced Certificate in Teaching English to Young Learners is a specially designed course for those who would like to acquire additional skills to teach children and teenagers.
This course is ideal if you:
Plan to specialise in teaching English to young learners in your future career.
Are currently teaching English to young learners and would like to develop a greater understanding of successful methods for the classroom.
Are planning to teach in the Far East and have a Certificate in TEFL/TESOL which did not include TEYL
Course Aims
This course is aimed at those EFL/ESOL teachers who seek professional development in the field of TEFL / TESOL and are interested in learning about teaching young learners of English.
Through a number of readings and practical tasks you will gain a deep insight into how general teaching principles can be applied in the Young Learners EFL/ESOL classroom.
The course covers 3 main aspects of teaching young learners:
What it means to be a young language learner
Principles and theories for the young learner classroom
Teaching teenagers
We thus provide a thorough coverage of the main principles underlying Teaching English in the Young Learners classroom.
This course is available to those who have already studied the Certificate in TESOL with INTESOL, or those who hold a 100 hour + TEFL/TESOL certificate issued from an accredited organisation.
Course Content
Unit 1 – Characteristics of Young Language Learners
Unit 2 – How Young Learners Learn Best
Unit 3 – Managing Young Language Learners
Unit 4 – Correction in the Young Learners Classroom
Unit 5 – Exploiting and Adapting Young Learners Materials
Unit 6 – Lesson Planning for the Young Learners Classroom
Unit 7 – Teaching Teenagers
Unit 8 – Assessing Young Learners
Assessment and Grading
The course is continually assessed – there are no final examinations. You will be set tasks throughout the course, which are submitted for assessment by your trainers. These tasks are graded and returned with comments and guidance for your development.
At INTESOL Japan we pride ourselves on personalised service, and we are constantly available to offer individual support and coaching. This means that your success on the course is virtually guaranteed.
Duration of the course
The length of time it takes to complete the course depends on your other commitments. As a general guideline most students complete the course within 1-3 months, however if more time is required, this is not a problem. The Advanced Certificate in IELTS for Teachers Course is valid for 1 year commencing from the date enrollment is completed. If you are in a hurry, for example due to an overseas deadline, inform your tutor who will guide you through the course and enable you to complete it more quickly.
After Completion – Award of Certificate
Upon successful completion of the course you will receive:
ALAP Certificate
ALAP Course Transcript (showing the content you have studied)
Upon successful completion of the course, you will be awarded an INTESOL Certificate with one of the following grades:
A1 – Distinction
A2 – Excellent
B1 – Very good
B2 – Good
C – Pass
ALAP Accreditation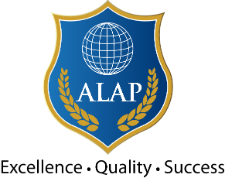 INTESOL Worldwide TESOL/TEFL courses are accredited and certified by ALAP (Awarding Language Acquisition for Professionals), a UK based Awarding Organisation.
ALAP is an accrediting organisation that specialises in the ELT industry.ALAP is supported by an esteemed Academic Panel who are all experts in the field of English Language Teaching. The ALAP panel oversee matters related to academic quality, ensuring that the value of an ALAP Certificate is upheld.
Course Fees
44,800 yen
The course materials can be downloaded in the member site.