This course is for you if your employer asks you to prepare students for the IELTS exam.
Course Aims
The aim of this course is to give you knowledge of the structure of the IELTS test and the kinds of tasks candidates do on the test as well as give you ideas how to help your students achieve success in IELTS. As a teacher of English, you may already have a stock of skill-building activities up your sleeve, but this course will look at how the four main skills and a number of micro-skills can be developed and practised with the IELTS test in mind.
Eligibility
All the candidate will need is a Certificate in TEFL/TESOL
Course Content
Unit 1 – General Information

Introducing yourself to IELTS
About the test
Overview of IELTS modules
Grades and grading criteria

Unit 2 – Listening

About the Listening module
General advice on the Listening module for test-takers
Listening: Short sample test
Types of IELTS listening tasks
Skill-training for the Listening module of IELTS

Unit 3 – Reading

About the Reading module
General advice on the Reading module for test-takers
Reading: Short sample test
Types of IELTS reading tasks
Skill-training for the Reading module of IELTS

Unit 4 – Writing

About the Writing module
Task-specific and general advice for completing the Writing test
Useful language and activities to improve students' writing skills
Grading criteria for the Writing test
Practice test

Unit 5 – Speaking

About the Speaking module
Task-specific and general advice for the Speaking test
Examples of IELTS Speaking questions
Useful language and activities to improve students' speaking skills

Unit 6 – Structuring Your IELTS Course

Two objectives
Teaching one to one
Teaching a group
Getting started
Planning lessons
Completing IELTS preparation
Assessment and Grading
The course is continually assessed – there are no final examinations. You will be set tasks throughout the course, which are submitted for assessment by your trainers. These tasks are graded and returned with comments and guidance for your development.
At INTESOL Japan we pride ourselves on personalised service, and we are constantly available to offer individual support and coaching. This means that your success on the course is virtually guaranteed.
Duration of the course
The length of time it takes to complete the course depends on your other commitments. As a general guideline most students complete the course within 1-3 months, however if more time is required, this is not a problem. The Advanced Certificate in IELTS for Teachers Course is valid for 1 year commencing from the date enrollment is completed. If you are in a hurry, for example due to an overseas deadline, inform your tutor who will guide you through the course and enable you to complete it more quickly.
After Completion – Award of Certificate
Upon successful completion of the course you will receive:
ALAP Certificate
ALAP Course Transcript (showing the content you have studied)
Upon successful completion of the course, you will be awarded an INTESOL Certificate with one of the following grades:
A1 – Distinction
A2 – Excellent
B1 – Very good
B2 – Good
C – Pass
ALAP Accreditation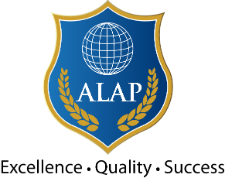 INTESOL Worldwide TESOL/TEFL courses are accredited and certified by ALAP (Awarding Language Acquisition for Professionals), a UK based Awarding Organisation.
ALAP is an accrediting organisation that specialises in the ELT industry.ALAP is supported by an esteemed Academic Panel who are all experts in the field of English Language Teaching. The ALAP panel oversee matters related to academic quality, ensuring that the value of an ALAP Certificate is upheld.
You receive a graded TESOL certificate direct from ALAP.
You will receive a Course Transcript from ALAP showing what you have studied and how many hours.
Employers worldwide will know that your course is of a high academic standard.
Your IELTS for Teachers course is moderated and the procedures are checked by an external body.
Your course provider and awarding body are investing in quality and are committed to giving excellent service.
Message from Director of Studies
Dear trainees,
The IELTS examination has become increasingly important globally for many people and is one of the most famous and reliable high-stakes tests. Approximately 2.5 million tests were taken in 2015, making it the main exam for university or college entry or for other general purposes such as for employment or migration.
Given the ever-increasing amount of internationalisation, more people will be using IELTS as a way to achieve their goals. This means that IELTS Preparation courses will be in greater demand over the next several years, with many schools and learners in need of expert training from teachers who are very knowledgeable in the exam.
This is where the INTESOL IELTS For Teachers training course can give you the advantage to have a better grasp of the finer points of the test, as well as the ability to devise lessons and materials to more efficiently improve the ability of your students. Having this type of expertise is a great way to propel your teaching career forward.
I look forward to welcoming you onto the course.
Yours sincerely,
Rocco Nigro
Director of Studies
INTESOL Japan
Course Fees
44,800 yen
The course materials can be downloaded in the member site.